The Rise of Birmingham Artists in the 19th Century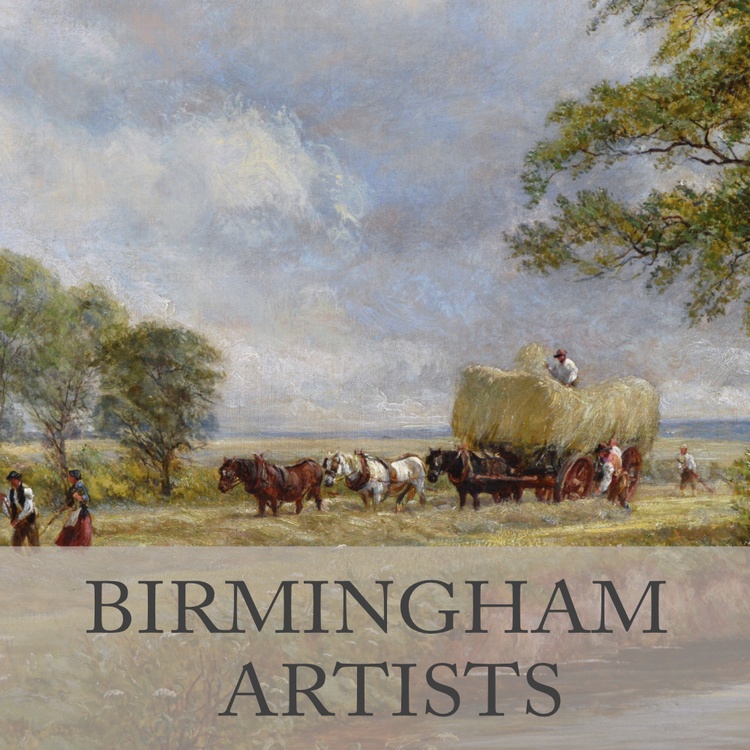 During the 18th century, Birmingham was at the forefront of scientific, technological and natural history developments and part of the cultural transformation known as Midlands Enlightenment. By the early 19th century, the city had become an important centre for industry and culture aided by the canal system, which provided transport for raw materials and finished goods. Whilst other city economies such as Manchester and Nottingham were based on bulk commodities, for example wool and cotton, Birmingham's was built on finished manufactured goods with the emphasis on high quality design. The importance of applied arts to the economy gave rise to a culture of art and design which was fuelled by the emerging wealthy middle classes. The growing artistic movement and improvements in education lead to Birmingham being seen as having a significant influence on British art; one which continues today.

Since the late 1700's, London had been the country's main centre for art and art education. As a result, provincial artists found it difficult to make their mark anywhere else but in the capital. They often required sponsorship to attend the London art schools, which left many artists struggling to make the move and gain success wider success. Local art societies began to spring up, together with drawing schools and educational activities to provide support for home grown talent. Many of these societies and schools were founded by successful artists with a passion for helping others in their local community. In Birmingham, one such group of artists which included Samuel Lines, Moses Haughton, Vincent Barber and Charles Barber, decided to set up a drawing school in 1809 in Peck Lane (now New Street Station). In 1814, the school became the Birmingham Academy of Arts and held their first exhibition in the same year. In 1821, Samuel Lines and his fellow artists formed the Birmingham Society of Artists, one of the first outside of London to be established. Its main aim was to establish a museum for works of art, provide facilities for students, hold public exhibitions and extend art education in the city of Birmingham.

By 1829, the society had moved into their new purpose built offices and gallery in New Street where local artists could exhibit and sell their work. Over the next 15 years, the Birmingham Society of Artists gained a national reputation for supporting and developing emerging talent. Many of the society's presidents were notable artists. When the Museums Act of 1845 came in it enabled the Society to open the first public exhibition room and allow a greater access to art. In 1868, the Birmingham Society of Artists received its royal charter and became the Royal Birmingham Society of Artists (RBSA) which still operates today. By 1880, the society had established the Birmingham Free Art Gallery before a permanent art gallery was built in 1885 and renamed the Birmingham Art Gallery.

For the first time in Birmingham, artists from lower class backgrounds were able to develop their talent and make a successful career without having to leave the city. Their families often belonged to the group of highly skilled craftsmen and women who understood and valued artistic development. Many of these artists often sustained themselves by working as apprentices or as local craftsmen whilst attending local classes in their spare time before being able to turn professional. The growing number of skilled landscape artists also led to a collective term known as the Birmingham School (landscape artists). Although not officially recognised the name was given to a group of artists working in Birmingham who were linked together by a common technique. The most recognisable aspect was the precise portrayal of nature and its distinctive features. Although initially made up of artists such Samuel Lines, Joseph Barber, Thomas Baker and Charles Thomas Burt, it also later included David Bates, Joseph Thors, Benjamin Williams Leader and William Mander.

Birmingham also played an important role in the Pre-Raphaelite and Arts and Crafts movement. The Birmingham Set or Birmingham Colony was a group of students at Oxford University which included Edward Burne-Jones and William Morris. The movement's influence can be seen in the architecture around Birmingham. The impact of Birmingham on the British art scene and Victorian art of the 19th century was far reaching and long lasting. Its culture of art and design helped support and nurture local emerging artists, allowing them to thrive and make an important contribution to Britain's art. Although the economy of Birmingham has now moved away from manufactured good, the cultural effects have had a lasting effect. To this day, interest in 19th century and early 20th century Birmingham artists has not waned. In fact, it has increased as more people realise their influence and importance to the City and the rest of the country and as their stories continue to unfold through new found information.